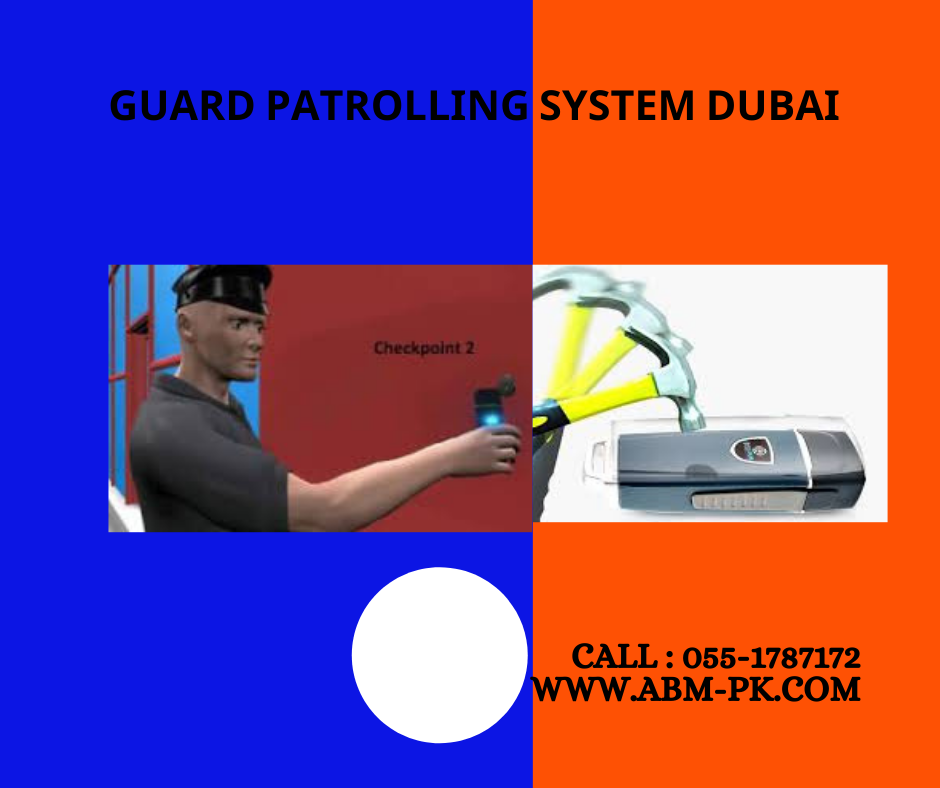 Guard Patrol Monitoring System
The routine daytime patrolling associated with each event occasion in a system is one of the best security features we offer at ABM Innovative. With a display screen, the RFID wand scanner offers guards various ways to clock all checkpoints and retrieve information. Guard patrol monitoring systems can access the clock by swiping proximity tags, an optional vital fob, or entering a personal PIN. It can also be set up as a clock-in guard patrol monitoring system using the security guard's fingerprints and thumbprints. Also, you can set up secure route patrolling. Incident event signaling can be activated using internal wallets.
In addition to offering an affordable guard tour monitoring system, it is feasible to check market rates you can obtain without signing a sales or service contract. ABM makes it simple to quit the service if you decide the system is not for you. Contact us immediately to increase your security using the methods that federal and local government businesses have relied on for many years from our guard tour monitoring system.
Installation of Guard Patrol Monitoring Systems
All companies must present documentation of their warranty coverage and bonding and their track record. A security guard for the supervisor or qualifying SIRA license must have several years of experience, including two years as a certified security guard. They could be in charge of training guards.
Supervisors must ace a SIRA exam and be qualified. Anybody installing a guard patrol system or proxy pen security system in the mainland must meet specific requirements. Check and display evidence of coverage. Instead, those installing GTS, including an electronic guard patrol system but excluding fire alarms, may apply for a security guard license.
Any company that installs GTS, a digital checkpoint system, or a security wand scanner must be accredited in Dubai, and each installer company must be registered.
All of these areas and purchases of guard security systems are flexible. Not all office security systems available to people on the market are listed on the ABM Innovative FZE profile as a money-Back Promise. So, be sure to get in touch for more details.
Guard Patrol tour System - Why Choose us ?
In collaboration with JWM, we gave viewers a special checking offer! At AED 234.99 a month, the Interactive Checking program offers professional checking of your premises and security control.
Our Guard Patrol Monitoring Systems Keep a Track
Systems record not just when the route plan completes patrol but also, and usually the second, the identity of the security person whose credential was used to patrol the whole area of checkpoints, making them perfect for keeping track of missing checkpoints.
Get Seamless Access with Guard Patrol Monitoring Systems
JWM provides access even when the facility or the internet is offline (if a backup battery is installed). Patrol tour systems may be programmed to ensure that only people registered for the relevant programs can access any critical area or expensive computer systems owned by users.
Security guard checkpoint system
A large display on the wand shows the battery and scanning status, their punch-in checkpoints times, the number of hours they patrol during that period, and messages from their manager. The best method to stop sleeping on the night shift is punching checkpoints regularly and time theft unexpectedly, streamlining this process. Managers like security guard checkpoint management and proxy pen patrolling. All this is ensured with the use of a security guard checkpoint system.
Our Security guard monitoring system is Compatible
The only security guard monitoring system that supports Apple devices is the ABM innovative FZE. You can use JWM to arm your system, ask Siri for the location of your system, and create automation to make your JWM system work with your Apple devices. Apprentices belong in class S. Candidates should undergo background checkpoints. While at work, they must be supervised by Class A or Class C license holders.
How Guard Tour Security Systems Stand Out?
There are certain drawbacks to using traditional guard security systems clocks. Special RFID keys are required to restrict access to some locations. You would want more checkpoints if the building were a more significant critical security location. An expertly monitored security system has trained industry professionals to watch over your own property around the clock.
Guard monitoring equipment is put in charge when the plan is set off, they will contact the supervisor, and you send an emergency reliever to security patrolling services. ABM uses JWM wand to ensure you receive the best assistance from our technical support. You accept our Privacy Statement and our Terms of Use by using this patrol management software.
We are here to assist you in finding the most unique guard tour patrol system and thoroughly researched GTS solutions. A guard tour patrol system only refers to preventing unauthorized people from entering a cool place. This initially entails walling, fencing off, or typically safeguarding the confined zone. Then, acquiring a regulated entry and exit to that location.
The simplest form might involve a security guard at the entrance employing JWM RFID technology or checking all potential and critical areas' credentials, security, and access. It might call for a JWM wand reader connected to a USB downloader more modestly by self-magnetic technology. Although it won't always imply monitoring people's entry or exit times, the security guard's physical presence prevents unforeseen incidents.
How Does the Security Tour Guard System Ensure Warehouse Security?
A security tour guard system greatly simplifies warehouse security. Thus anyone who values their security can benefit from a WM 5000V5 GTS wand system. In a rented warehouse or store office space, the investor often manages security staff access to all the critical areas of the building.
As a whole area, the supervisor takes care of access and patrol for their specific plan areas. Many different industries, for instance, stand to benefit from the security tour guard system. JWM tour guard system is commonly used in-store, and warehouse communities, where it is beneficial for plan purchases, and CCTV cameras are infamously installed all over UAE. A security tour guard system is imperative to assist local law enforcement in fighting fire incidents.
We discuss how to choose the "right guard patrol system" for your new opening warehouses, how to avoid costly setup errors, and how refraining from utilizing the best GTS might save significant problems. Using WM-5000 V5 provides several benefits and drawbacks that are related to its use, security, and other associated features.

The following are some reasons why WM-5000 V5 is advantageous:

The Distinctive ID Authority of UAE security plan from Dubai companies is a good illustration. The multi-move authentication system was introduced in 2012, combining RFID tags, digital scanning, and long battery backup in one design from the ABM innovative FZE.
All submitted reviews for the guard tour patrol system are considered when determining our rating, even though not all are publicized. ABM believes that the posted opinions most accurately capture the overall perspectives of all critiques received.
How Do the Guard Patrol Systems Work ?
In the past ten years, guard tour patrol system software has come a long way and can now read features, including event patterns, plan routes, and even your guard name identification. For a very long time, wm 5000 V5 scanning has been at the forefront of guard tour tracking. A unique feature includes cloud base capabilities Rapid SOS (the only other system with this component of security monitoring) to expedite assistance in emergency incidents.

It sends information directly to patrol management software version 1.1 V rather than a monitoring wand, allowing first responders to reach you (or wherever you are) more quickly. We recognize that you have specific needs and that for your physical and network security systems to be wholly reliable and functioning, they must all be met. We provide security and guard tour systems with the GPRS feature to ensure your security.
What are the Regulations for the Security Tour Guard System?
A comprehensive range of security tour guard system products and services includes UAE regulations requiring qualified security managers of businesses installing GTS wm 5000 V5 to have a proven track record.
Before applying for a security tour guard license, keep a bond and work for a GTS installation company in a supervisory capacity for twelve years. The number of sophisticated layers that many personal and commercial security systems are adding now includes the GPRS wand system.
This can appear infallible when coupled with the unique identifiers of your technical genetics and habits. Yet, some people hesitate to employ a guard tour system as a stand-alone authentication method. To advance technology, ABM Innovative FZE is developing an advanced GTS that can scan hundreds of checkpoints from five centimeters away.
Anybody who installs GTS or a patrol management system must get authorized by the UAE government department. Proxy pen and security patrol systems are classified as separate classifications. Applicants must be specific if they apply for a person or both categories.
Companies must prove ten years of expertise, publish recent financial documents, and post a bond. After that, companies only need to take a test in security law in addition to a specialty examination to get eligible for a patrol management system.
What Do You Need to Know Before Installing a Security Guard Tour System in the UAE?
When applying for a security contractor license in UAE, qualified Guard Patrol Monitoring Systems installation company brokers must pass a background check, post a bond, and work for the company for ten years in a supervisory capacity. The best security guard tour system for tracking checkpoints route must be adaptable enough to meet your company's needs.
A configurable guard tour wand that increases productivity for these daily duties might be helpful for both large and small businesses. Many jurisdictions in the UAE require integrators to be authorized to install a security guard tour system.
From state to state, it is confusing for newcomers to the security patrol system to comprehend what they must adhere to in their state's regulatory regulations. This might imply a bulky handheld scanner and confusion over which wand scans different guard identification buttons for someone who works as a janitor or large-clearance individual.
Anybody accessing restricted areas with a GTS wand and security systems saves time with a security patrol system and prevents you from needing to call a supervisor. In everyday use, a security credential revoked within a security patrol system for a staff member will immediately become invalid within the JWM patrol system. Also, integrating the two systems can stop an illegal employee from using your wand reader before their scheduled shift.
Guard Tour System Supplier in Dubai
The GTS system allows the employee to record the time when they reach certain points on their tour. Checkpoints or watch stations are frequently placed at critical points along the tour route. Some systems are programmed to time the interval between stations, so that if the employee Other employees are dispatched to ensure the employee's well-being in order to reach each point within the time limit. The Guard Tour / Patrol System enables company management to monitor the activities of security guards to ensure that they perform their patrol duties in accordance with pre-planned patrol routes and timings. 
Solutions for Security the Dubai Guard tour system can generate various patrolling reports as well as export patrol person's time, location, and check time and attendance. Guard tour systems allow you to check and record the time it takes a guard to complete his guard tour by scanning specific checkpoints on the area he patrols. Checkpoints are strategically placed on buildings or in other areas of a site or remote area to assist management. supervisor on-site can scan checkpoints, send real time alerts, track and record events, and conduct and send reports to management or clients in daily basis.
Guard Tour System Installation

Our software is compatible with all Windows systems 32 bit and 64 bit but not with Apple MAC systems. If you want to use our software on a MacBook, look for the application Launcher Assistant in the Mac operating system, which is used to install the Windows operating system on a MacBook computer. The package includes a standalone software CD by default, and we can also provide a free cloud software account if needed. In one software, you can add readers from multiple or different models. The checkpoint and staff tags can be named up to 50 characters.
Security Patrol Wand for Checkpoint System
Multiple patrol men can share a single wand as long as they do not use it at the same time. If multiple patrollers are patrolling at the same time, you will need to purchase multiple readers. Warehouses, schools, hotels, parks, shopping malls, banks, transportation, and other facilities. LED indicator light with three colors and vibration double prompt Magnetic data cable connection for data download and upload, up to 12000 records per minutes, your read data will not be lost even if the power goes out. Fully charged takes 3 hours. Read 5000 checkpoints cards per day for 29 days
Waterproof Checkpoint & Guard Tour System
Waterproof and shockproof (IP67). A fully enclosed metal shell prevents dust and can be immersed in 1m of water to read the card; a silicone liner protects the host board for effective anti-fall, ensuring that there is no damage from a fall from a height. Guard management with Guard tour system Use JWM Secure – guard tour monitoring software for guard tracking (GPS and NFC) and security guard management. Security patrol tracking has never been so easy and efficient. Verify in real time that guard services are provided and produced, and ensure that the staff is safe.
Benefits of JWM Security patrolling System
The actual benefit is real time, online Guard Tour Verification that all checkpoints have been visited. There is easy way to get up data or vacant the gts wand devices manually. Easy action for daily patrolling report from the site field. A wireless dead man's switch enables seamless monitoring of single person premises. The main prospect to see UN conventionalizes from the route plan, automatic loud alarms enable speedy response. Guard Tour Verification in Real Time is now a reality after presenting most advance JWM application.
Real-Time Guard Tour Patrol Systems
ABM Secure allows you to track guard and patrol tours in real time. You know where your guards are, ensuring their safety and that tours are completed in accordance with the customers who hired your guard services. Alarms can be sent by ABM Secure if checkpoints are missed. Guards can generate visual reports while on tour, eliminating the need to wait until guards return to the office after their rounds to get reports of deviations to your clients. Real-time reports for Guard Tour verification: The reports are available on your computer at any time. There is no need to pick up devices to download data. Security supervisors now happy to use trouble free and easy to operate system.
Cloud base GPS Guard Tour System
The security center is always aware of when the guard is at the checkpoint and can respond to any incidents as needed. Guard tours are verified, and service levels are met – stay ahead of the competition! The dead man's switch ensures safety and dependability: ABM Securer's automatic, wireless numb man's switch sends an automatic alarm if there is no activity within a defined period of time – this increases guard safety and reduces customer compensation claims.
ABM GTS secure is a Real Time Guard Monitoring Solution designed to improve the quality and operational efficiency of manned guarding service providers
Guard Patrol Monitoring Systems in Dubai
The GT system allows you to receive up-to-date information on site security, work progress, schedule, and billing basis. All of This increases your reputation as a trustworthy partner and increases your chances of gaining new clients. ABM secure reputation in Dubai market as a cutting-edge supplier. It is one-of-a-kind solution for managing your client's premises and services. Services are becoming more transparent! Characteristics of the Guard Tour Monitoring Solutionism Secure handsets and mobile apps, or even both in the same system, are simple tools for security personnel that do not obstruct operations. All checkpoints are scanned, real-time reporting allows for tracking of the guard tour progress, and guards are safe because automatic alarms are sent to the security center if anything deviates from normal procedures.
Guard tour system Supplier near to me
There is no need to manually empty the devices in order to process guard tour information; incident reporting is simple. Paperwork following guard tours Reporting various activities, such as a broken window or an arrest, is quick and easy. ABM is a simple system for guards who want to focus on guarding rather than on manual reporting or proving tours were completed as agreed. ABM handles everything for you!
As a supplier near to me ABM enables the service provider to grant access to the ordered, allowing the client to see in real time that guard services are being provided as agreed and to the service level for which they are paying. The quality and operational efficiency have both improved and are immediately visible.
Checkpoint Patrol Systems
The checkpoint patrol system allows you to receive up-to-date information on site security, work progress, schedule, and billing basis. All No need to leave your computer to check that guards are visiting the sites they should be. ABM GTS is a cutting-edge and one-of-a-kind solution for managing your property and increasing its security. We improve quality by being transparent! Interested? Request a proposal and we will contact you!